Uniden 5 Watt Tradies Pack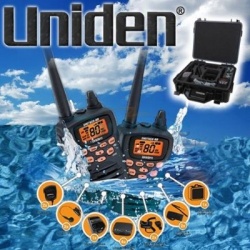 Introducing the ideal companion for Tradies, the UH076SX-2NB-TP communications pack by Uniden. With its handy portable Rugged Carry Case, your radios will stay protected and safe.
The UH076SX-2NB-TP is the ultimate in compact UHF communications and built for rugged Australian and New Zealand conditions. It is ideal for Commercial use, Truck Drivers, 4-Wheel Drivers, Construction Sites, Caravan Drivers and Restaurants. Uniden's reliability and experience in UHF makes this unit well suited to the professional who needs to keep in touch with the outside world. The UH076SX-2NB-TP offers the finest components, engineering and styling and offers outstanding performance in virtually all conditions and situations, just what you would expect from Uniden.
The radio has a Metal Alloy Casing and is a compact 5 Watt UHF radio featuring a waterproofΔ construction to operate in the most intense environments.
The UH076SX-NB is an ultra-compact unit consisting of 80 Narrowband Channels, CTCSS, Long life Super Switch and many more features.
With Range Extender (Duplex) Capability, the radios can reach up to 15km and can achieve even further range depending on the location of your local repeater station and topographical conditions. Designed and Engineered in Japan to offer outstanding performance in virtually all conditions and situations.
The UH076SX-NB has a Backlit LCD Display for easy viewing at night or in low light situations
This radio is for those people wanting a powerful waterproofΔ UHF radio so you can be sure to stay in touch.
Consisting of 2 x UH076SX-NB UHF Radios, 2 x Speaker Microphones, 2 x Earpiece Microphones, 1 x Dual Drop-In Charger with AC Adaptor, 4 x Lithium-Ion Rechargeable Batteries, 2 Cigarette Charger with Hang-up, 2 x Belt Clips and Wrist Strap, 1 x Weatherproof Rugged Carrying Case.
Product Code: UHF.UNIDEN.UHO76SX-2NB