Uniden UH720SX-NB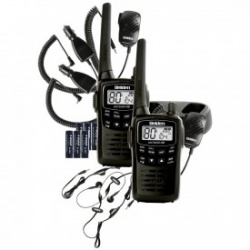 Introducing the latest in UHF Communications from the world leaders in wireless communication. The UH720SX-NB uses 80 Channels making it one of the first UHF Handhelds in the market available and user upgradeable for free when the ACMA standard is published early in the year.
The UH720SX-NB is the ultimate in compact UHF communications and built for rugged Australian and New Zealand conditions makes it ideal for the Commercial use, Hiking, Construction Sites and Restaurants. Uniden's reliability and experience in UHF makes this unit ideal for the professional who needs to keep in touch with the outside world. The UH720SX-NB offers the finest components, engineering and styling and offers outstanding performance in virtually all conditions and situations, just what you would expect from Uniden.
The UH720SX-NB is a compact 2 Watt UHF Radio Built Rugged for Australian and New Zealand conditions.
The UH720SX-NB is an ultra compact unit consisting of 80 Channels (User Upgradeable for Free), CTCSS, Long life Super Switch and many more features.
The UH720SX-NB has a range of up to 6km and with its Range Extender (Duplex) Capability the unit can achieve even further range depending on the location of your local repeater station and topographical conditions.
Product Code: UHF.UNIDEN.UH720SNB