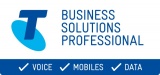 Telstra Business Systems
NW Communications & IT Specialists are your local experts with Telstra Business Systems. As a Telstra Business Accredited Partner, your business requirements will be satisfied with the latest campaigns and offers from Telstra.
Telstra Business Systems offer benefits such as a new phone system with no upfront fees, a competitive phone plan, a choice of payment options, and a rebate of up to 16% off your Telstra phone bill.
To find out more about Telstra's current campaign/s, please select "More Info" from below.
The latest LG Ericsson phone systems are also listed below, and highlight some of the features available. For a quotation on a indiviidually tailored phone system to suit your business, please contact us on 0891431134.